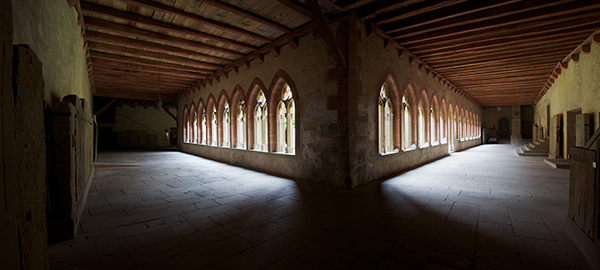 Along the Neckar River, in the small German town of Bad Wimpfen, located in the state of Baden-Württemberg between Heidelberg and Heilbronn, rests a medieval cloister. The establishment of the associated church dates back more than 1000 years. The old front and towers from the 10th century are still there. The rest of the church is a gothic structure, built in sections starting in the 13th century. Attached to the church is a gem: a cloister built over the course of several centuries. Construction started in the 13th century and the final wing was completed in the 15th century, with subsequent restoration work during the 20th century. The town on the hill is also notable for its Medieval town layout, former Imperial palace grounds, and many old buildings dating as far back as the Middle Ages.
The cloister buildings fell into disuse a couple of hundred years ago, but a group of Benedictine monks moved in after World War II, having left their former monastery in what had become East Germany. A few years ago, that community closed after its numbers had dwindled. Today the Knights of Malta run the former monastery and grounds as a meeting and retreat center.
During our visit to Bad Wimpfen, I had ample opportunity to enjoy and photograph the beautiful cloister. The panorama of the cloister above is among the highlights of those images. I like how it combines light illumining the darkness of the cloister hallways while those same passages give a sense of shelter and contemplative focus. And, of course, there is beautiful Medieval gothic architecture here, too.
The panorama is stitched together from five separate digital images. The full size image prints at a bit over 32 inches wide and not quite 14½ inches tall, and that full size print looks marvelous. I'm very pleased with the results. You can see a slightly larger version of the image above at the link.
I anticipate a full size print of this image will be on display with several of my other photographs this Fall at Gloria Dei Lutheran Church in Saint Paul, Minnesota. The show is scheduled during the months of October and November.
More photos from the trip to Europe will be posted in the weeks ahead.