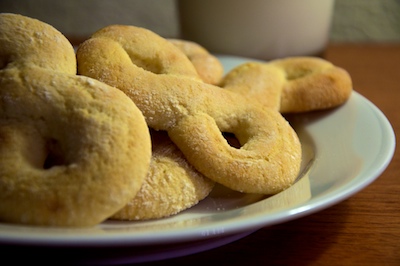 What is a kringle (pronounced KRING-lə, not like Kris Kringle), you might ask? It is a light, soft, and cake-like Norwegian dessert or cookie formed in a figure eight or pretzel shape. There are many versions of kringle from across Scandinavia. The Danes in the Racine, Wisconsin area make a pastry very different from this one, which confused me the first time I saw it labeled "kringle." Apparently, what they have most in common is their shape (because "kringle" is evidently a reference to the shape). These are the type I'm most familiar with from church, Sons of Norway meetings and Syttende Mai celebrations, and occasionally home at Christmas time.
The recipe comes from Verna Ellefson, a kind elderly woman, and the widow of a Lutheran pastor, who lived about a block from me when I was growing up. A nice side benefit of making this recipe for me is remembering Verna, and inevitably various other older ladies, now of sainted memory, from the church of my childhood.
Mrs. Ellefson's recipe (slightly edited) is below.
Kringle
1¼ cup sugar
½ teaspoon salt
½ cup butter, at room temperature
2 egg yolks
1 cup buttermilk (or 4 tablespoons buttermilk powder and 1 cup water)
1 teaspoon baking soda
1 teaspoon baking powder
3 cups flour
1 tsp vanilla
Beat the sugar, salt, butter, and egg yolks until light and fluffy.
Add the buttermilk, baking soda, baking powder, vanilla, and 1 cup of the flour and mix to combine.
Stir in the remaining 2 cups of flour.
Place in the refrigerator overnight.
When you are ready to bake, preheat the oven to 500°
Roll out on a floured work surface or pastry cloth into a pencil-like rope. On a cookie sheet, form into a figure 8. Each individual cookie can be formed from a length of 6–8 inches.
Bake for 5 minutes.